Overview
An Achilles tendon rupture is when you tear the tissue that connects your calf muscle to your heel bone. Your Achilles tendon is very strong and flexible. Its at the back of your ankle and connects your calf muscle to the bone in the heel of your foot (calcaneum). If you rupture your Achilles tendon, you can either partially or completely tear the tendon. Most people who injure their Achilles tendon are between 30 and 50 and dont exercise regularly. Its more common in men but can affect anyone. It happens most often in the left leg. This may be because most people are right-handed which means that they push off more frequently with the left foot when running.
Causes
An Achilles tendon rupture is often caused by overstretching the tendon. This typically occurs during intense physical activity, such as running or playing basketball. Pushing off from the foot while the knee is straight, pivoting, jumping, and running are all movements that can overstretch the Achilles tendon and cause it to rupture. A rupture can also occur as the result of trauma that causes an over-stretching of the tendon, such as suddenly tripping or falling from a significant height. The Achilles tendon is particularly susceptible to injury if it is already weak. Therefore, individuals who have a history of tendinitis or tendinosis are more prone to a tendon rupture. Similarly, individuals who have arthritis and overcompensate for their joint pain by putting more stress on the Achilles tendon may also be more susceptible to an Achilles tendon rupture.
Symptoms
Whereas calf strains and tendonitis may cause tightness or pain in the leg, Achilles tendon ruptures are typically accompanied by a popping sensation and noise at the time of the injury. In fact, some patients joke that the popping sound was loud enough to make them think theyd been shot. Seeing a board-certified orthopedic surgeon is the best way to determine whether you have suffered an Achilles tendon tear.
Diagnosis
The diagnosis is usually made on the basis of symptoms, the history of the injury and a doctor's examination. The doctor may look at your walking and observe whether you can stand on tiptoe. She/he may test the tendon using a method called Thompson's test (also known as the calf squeeze test). In this test, you will be asked to lie face down on the examination bench and to bend your knee. The doctor will gently squeeze the calf muscles at the back of your leg, and observe how the ankle moves. If the Achilles tendon is OK, the calf squeeze will make the foot point briefly away from the leg (a movement called plantar flexion). This is quite an accurate test for Achilles tendon rupture. If the diagnosis is uncertain, an ultrasound or MRI scan may help. An Achilles tendon rupture is sometimes difficult to diagnose and can be missed on first assessment. It is important for both doctors and patients to be aware of this and to look carefully for an Achilles tendon rupture if it is suspected.
Non Surgical Treatment
Non-surgical management traditionally was selected for minor ruptures, less active patients, and those with medical conditions that prevent them from undergoing surgery. It traditionally consisted of restriction in a plaster cast for six to eight weeks with the foot pointed downwards (to oppose the ends of the ruptured tendon). But recent studies have produced superior results with much more rapid rehabilitation in fixed or hinged boots.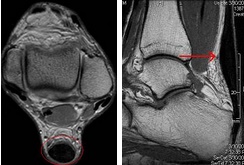 Surgical Treatment
Surgery for Achilles tendon rupture requires an operation to open the skin and physically suture (sew) the ends of the tendon back together, has a lower incidence of re-rupture than nonsurgical treatment. Allows return to pre-injury activities sooner and at a higher level of functioning with less shrinkage of muscle. Risks are associated with surgery, anesthesia, infection, skin breakdown, scarring, bleeding, accidental nerve injury, higher cost, and blood clots in the leg are possible after surgery. Surgery has been the treatment of choice for the competitive athlete or those with a high level of physical activity, for those with a delay in treatment or diagnosis, and for those whose tendons have ruptured again.
Prevention
Achilles tendon rupture can be prevented by avoiding chronic injury to the Achilles tendon (i.e. tendonitis), as well as being careful to warm up and stretch properly before physical activity. Additionally, be sure to use properly fitting equipment (e.g. running shoes) and correct training techniques to avoid this problem!